it's all over now, but the 2012 Winnipeg ANARCHIST BOOKFAIR and DIY Fest was a good time
Posted by tim on September 28th, 2012
 
presented by CKUW and UMFM,  the 2012 and 5th annual BookFair would like to acknowledge the support of Arbeiter Ring Publishing, Fernwood Publishing, Kustom Kulture, and the Albert St. Autonomous Zone Co-op!
wanted:   PHOTOS!  if you can email photos taken at the 2012 bookfair please send them to ac.tsisernull@retsgnuoy
 Friday evening Sept 21, 7:30pm       "Books that Rocked My World"   thanks to the panel co-hosted by Karen of CKUW's "Mud & Water" and Dave of UMFM's "Red Waters"      and the audience members who participated.  here's the list:
 The Giving Tree  by Shel Silverstein
Wump World   by Bill Peet
Debunking 9/11 Myths    edited by James Meigs
The Gulag Archipelago  by Aleksandar Solzhenitsyn
The Selling of the President  by Joe McGinnis
The Pentagon Papers  by Daniel Ellsberg
All the President's Men  by Woodward & Bernstein
Buffet World  by Donato Mancini
Tortilla Flat  by John Steinbeck
The Grapes of Wrath  by John Steinbeck
Decolonizing the Mind   by Ngugi wa Thiong'o
The Jungle  by Upton Sinclair
The One Dimensional Man  by Herbert Marcuse
In Search of April Raintree  by Beatrice Culleton Mosionier
The Great Transformation  by Karl Polanyi
Anarchism & Other Essays  by Emma Goldman
Valis  by Philip K. Dick
Race, Space and the Law  by Sherene Razack
Home  by Toni Morrison
An Unauthorized History of the RCMP  by Browne & Brown
The Sexual Politics of Meat  by Carol Adams
On the Justice of Roosting Chickens  by Ward Churchill
Heat   by George Monbiot
Anishinabe Syndicated   by Jim Northrup
Walking the Rez Road  by Jim Northrup
What We All Long For  by Dionne Brand
Reasoning Otherwise  by Ian McKay
Communist Manifesto  by Karl Marx
The Art of Not Being Governed  by James Scott
Black Flame  by Van derWalt & Schmidt
History of Civilization  by Will Durant
Caliban & the Witch  by Silvia Federici
Desire for Development  by Barbar Heron
Under Three Flags  by Benedict Anderson
The Many-Headed Hydra  by Rediker & Linebaugh
Ritual America  by Heimbichner & Parfrey
Fahrenheit 451  by Ray Bradbury
The Lacuna  by Barbara Kingsolver
Ishmael   by Daniel Quinn
Turning the Tide  by Noam Chomsky
Zen and the Art of Motorcycle Maintenance  by Daniel Pirsig
Mishomis  by Edward Benton-Banai
Reform or Revolution  by Rosa Luxemburg
Killing Hope  by William Blum
Tragedy and Hope  by Carroll Quigley
A Peoples' History of the United States  by Howard Zinn
Earth Elder  by Alexander Wolfe
Government is Violence  by Leo Tolstoy
Surface Detail  by Iain Banks
the Trotsky Trilogy  by Isaac Deutcher
Racialized Policing  by Elizabeth Comack
Indigena Awry   by  Marie Annharte Baker
Nationalism & Culture  by Rudolf Rocker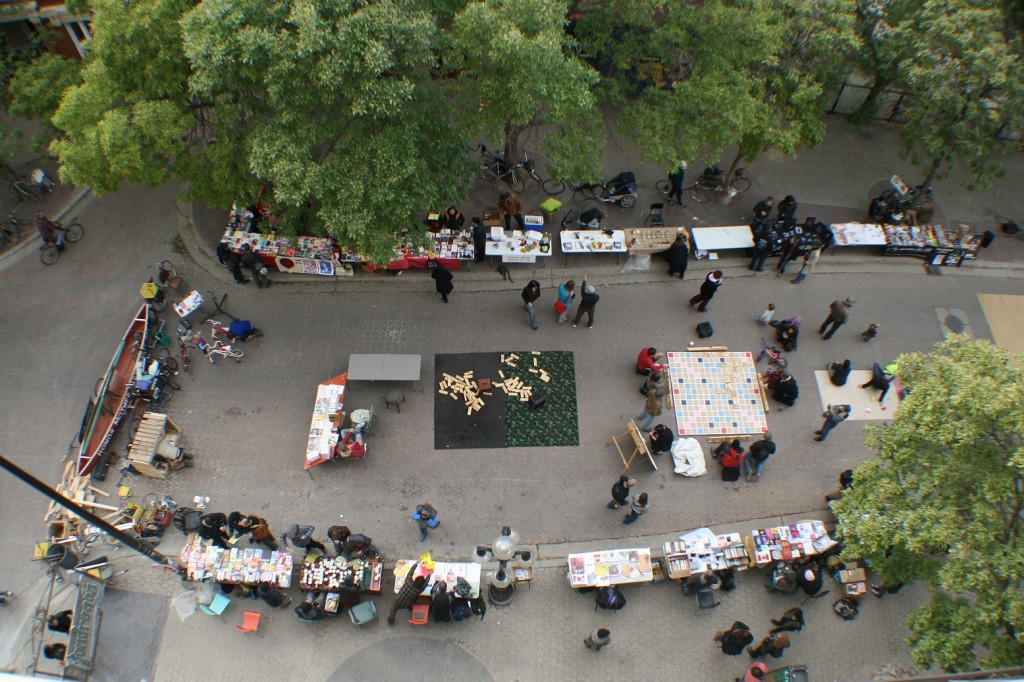 photo by Kat! 
Saturday Sept 22, 11am – 5pm      –  We took the street!  Exhibitors included: AKPress, Briarpatch Magazine, Canadian Dimension magazine, Communist Party of Manitoba, Dark Parlour Magazine, Fernwood Publishing, Flatlander Soap Co., Flora and Farmer, Geez Magazine, the Industrial Workers of the World, Junto Local 91 Radical Lending Library, Kustom Kulture, Molly Mew Productions, Mondragon, Of Course You Can! Distro,  Organic Planet, Prairie Struggle Organization, Romulus + Remus, The Night Nurses, Turning the Tide bookstore, Winnipeg New Socialists and War on Music.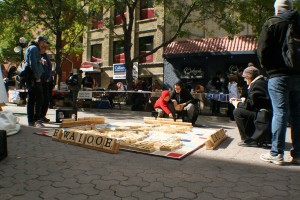 photo by Kat!
Saturday workshops: 11 am– "Organizing community gardens", with Rod – thanks to Rod for offering to do this and our apologies that no one came to participate! lesson learned: no more workshops before noon!      "Building solidarity against bosses & landlords", with Ste-Ste.  thanks Ste-Ste!!    1 pm  – "Anarchy and Education", with Heather and Pat.  Good turnout!  3 pm – screening of "Our Common Roots" – a film by Glenn Axford in which Chad Cornell of Hollow Reed Holistic shares the therapeutic and energetic qualities of medicinal plants of the forest, field and garden.   "Activist Burnout Discussion Circle"  with FemRev & Copwatch.  Good turnout. 
 the   World Car-Free Day Saturday afternoon Streetfest     on Albert Street between the A-Zone and Bannatyne Ave. with the support of Urban Forest and Bodegoes, this event was a giant hit, with music by  Süss and friends at 12:30, a presentation by Steve Langston about his Sept 1-17 bicycle tour of Manitoba eating local and freshly harvested foods at 1:30, Billy Cromb at 2:30, and John K. Samson
 thanks to Paolo of Urban Eatin'  who built a planter out of pallets all afternoon. it can be seen on the sidewalk across from the A-Zone and it needs someone to fill it with soil and plant some seeds!  thanks to Sean for his amazing BIG games of Scrabble and Jenga which we enjoyed.  THE STREETFEST WAS A WONDERFUL SUCCESS!!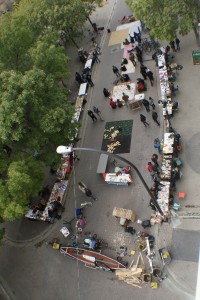 photo by Kat!
Saturday evening, Sept 22, 5pm     in the Urban Forest cafe at 93 Albert St,  Jerome Raza talked about the Quebec student movement and combative unionism.   Sunday Sept 23, 11am     Mondragon Community Brunch sold out!
Sunday BookFair Tables continued Noon-4pm  On the street again!!!!  -great fun!     Sunday workshops:  Noon –  "hungover Yoga",  with Nikki had to be cancelled because again, no one came…    But "intro to circuits" with Graham had fun.
Sunday afternoon Sept 23, 2pm       talk by guest author Nik Barry-Shaw about his recent book      Paved With Good Intentions: Canada's NGOs from Idealism to Imperialism,    in Mondragon,  was very good.
THANKS TO ALL WHO WERE PART OF THE WEEKEND! WE ROCKED IT!!